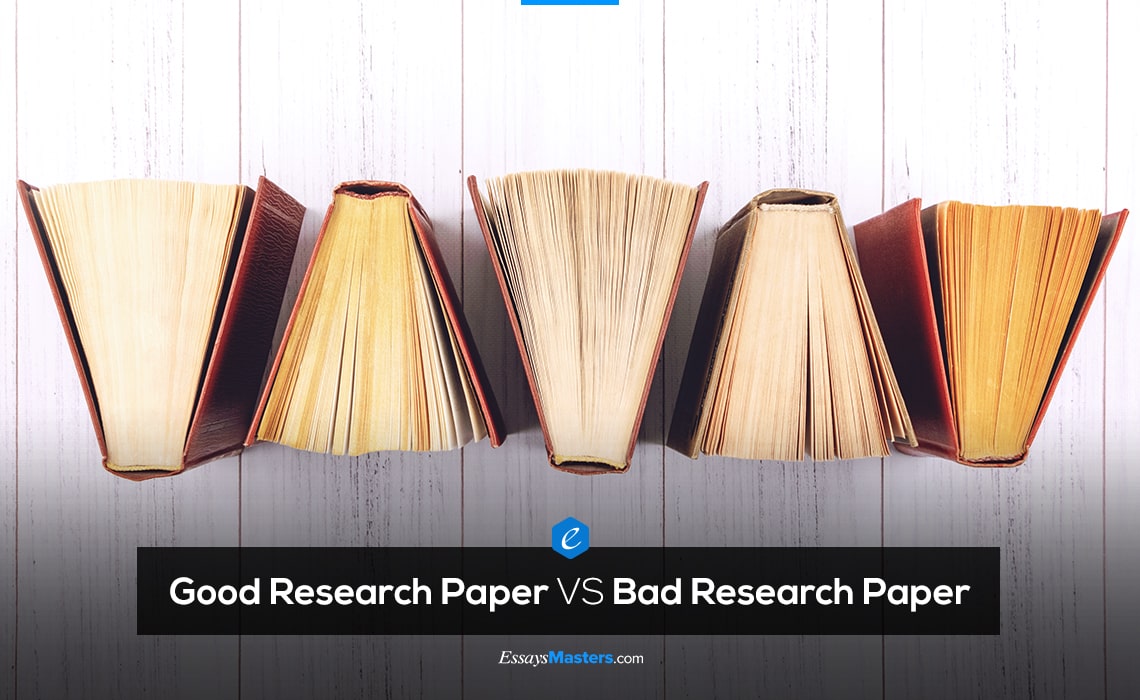 "How to write a good research paper" – this is the question all students ask either themselves or their peers. No matter what college or university you attend, sooner or later you will have to write your research paper. And the question is really will you have a good research paper or will you have a bad one? There is nothing in the middle. So before students sit to write a research paper they have to know in advance what a good research is all about as well as how a bad research paper looks like. This should help avoid most common mistakes while writing a paper and direct the efforts in the right way. In this article you will find 10 differences between good and bad research papers which may help you understand what kind of things you want to do before writing one or (in case you already have it written) how you want to revise your research paper.
Research Papers: Good VS Bad
It may sound obvious but the most common reason why students write poor quality research papers is because the research conducted was either too shallow or lacked something. You can even say that knowing how to write a good research paper equals to knowing how to conduct a good research. The thing is you cannot deliver a high quality research paper if you have never conducted a good research.

Any research paper has an argument being proved throughout the paper. The problem of bad research papers is with the validity of this argument. For example, if a student claims that 'A' causes 'B' without direct testing one can say it may be a casual argument. Good research papers always contain arguments in which the assertions made are valid through direct testing.

Bad research papers are usually the product of the poor-designed experiments which are not conducted properly. This is something students may want to pay special attention to. Even before they sit to write a research paper, they need to make sure that their experiments along with the controls are fully adequate. Also, in good research papers experiments always answer the research questions.

Are your data complete? This question often draws a line between good research papers and bad ones. If your data are not complete than the rest of the research paper won't be credible enough. Quite the opposite if you have complete data to make conclusions and deliver a good research paper.

Good research papers have a self-consistent data interpretation as opposed to bad research papers. In other words, if you want to have a good paper you need to make sure that all of the parts of your data interpretation are logically consistent with the rest of your writing.

There are some research papers in which the findings (and consequently conclusions) do not match the undertaken research. In this case one can hardly grade such paper as a good one. Instead, one's findings and results should naturally flow out of the research. It is important to note that the findings should not vary by context, otherwise the results may be found invalid.

The conclusions made in the research paper should not contradict other facts or data found in the paper. It they do in one way or another it is most likely a professor won't grade your research well. Good research papers have this thing in common – the conclusions are always consistent with all the data presented in your paper.

Failure to use credible sources is what can turn any good research paper into a bad one. If you know how to write a good research paper then you must know by default what sources to use and how to evaluate them. The thing is that sources is what drives the whole research so if you fail with this part you will likely not get a good grade for the paper.

Structure. If you have a quick look at any research paper you can tell in a few seconds whether the overall structure is good and its components are all intact. If you have anything missing (one of the structure components) on your research paper you can hardly count to get a good grade for the paper. Good research papers have a good structure that shapes the research and its findings in a logical way.

Mistakes are never good, be it a research paper, dissertation or an essay. A good research paper will contain no spelling or grammatical errors whatsoever. It doesn't really matter how many of the mistakes you have in your paper. The fact that you have them tells of your work a lot.
Conclusion
Obviously, the professor is responsible for making the judgment as to whether your research paper is a good or bad one. However, you can do it yourself using the aforementioned criteria. It takes a little bit more time than you might have thought and you can check whether what you wrote complies with research paper requirements or not. Knowing the criteria given above is helpful for those who have already written their research papers as well as for those who are going to write it. In both cases one can use this knowledge to make sure the final product is well-written and will likely to bring some good grades.
Lastly, we recommend asking someone knowledgeable to check your research paper for these criteria. The thing is that you cannot be objective as you have written it yourself. Having a fresh look at it may help identify any inconsistencies in the work. Another option is to order proofreading or rewriting services online. There are many companies that offer editing and rewriting services  which means you just provide the text to edit and they do the rest. Rewriting services are now becoming more and more popular especially among those students who want to get a good grade and save money. They write the paper themselves fulfilling all the requirements but they may not be good writers, therefore they order rewriting services to have their paper rewritten flawlessly. It may be considered as a more profound editing. Anyway, you may not need it if you work hard on the points listed above.