It is generally believed that artists can be associated with people who enjoy walking along the flowerbeds and admire the beauty of this world. It may seem that they have no earthly worries, as their masterpieces are full of light, colors and life. Nevertheless, it is a rather stereotypical opinion. In fact, many pieces of art are the results of great struggles. The greatest example of such an artist is the Mexican artist Frida Kahlo, who lived the life full of sufferings. Polio, a near fatal traffic accident, a traumatic spontaneous abortion, a conflicted marriage, divorce, 35 surgeries, and addiction to pain killers, as well as alcohol, are only a small part from the list of misfortunes, which disturbed Frida Kahlo. All of them are deeply incorporated in art, created by this person. Frida Kahlo's pictures are the deep and based on the incredible race for life, while being overflowed with tears and pain.

Get a price quote
Paper Features
Free bibliography page
Free title page
Free formatting (APA, MLA, Harvard, Chicago/Turabian)
Free revision (within 2 days)
Free e-mail delivery
24/7 support
Format
Approx. 300 words/page
Font: 12 point Times New Roman
Double and single spacing
1 inch margin
Up-to-date sources
Any citation style
Firstly, it is necessary to analyze the life path of Frida Kahlo in order to understand the main themes incorporated in her art. From the childhood, suffering was the only reality of the artist. At the age of six, she was diagnosed with Poliomyelitis that had a destructive effect on her left leg. Nevertheless, it was only the beginning of the hardships in her life. The transition from childhood to adulthood was also marked by a bad fortune. In 1925, being eighteen years old, Frida went through an awful road accident. Frida was so gravely injured that the doctors did not have any hope for her survival. Frida's friend described the situation in a following way, "They had to put her back together in sections as if they were making a photomontage" (Herrera, 1983, p.50). Nevertheless, Frida's great desire to live and a profound internal force helped her win the battle with death. However, miraculous recovery did not put an end to her struggles. After the great wounds (fractured spinal column and pelvis; broken collar – bone and two ribs) all her days were marked by extreme pains (Herrera, 1983, p.50). It seemed that there were too much physical illnesses for such a frail woman. Nevertheless, the fate decided otherwise and accompanied her external pain by internal one. The sufferings of her middle years were increased by an unhappy marriage to the famous Mexican painter Diego Rivera. His bad attitude towards Frida made her live in a constant depression. In addition, severe quarrels made her lose a fetus three times and she never had a chance to become a mother. Hoariness did not bring peace for Frida. In 1953, her right left leg was amputated because of gangrene. Both physical and mental conditions made Frida seek for salvation in addiction to painkillers and alcohol. Even in her death certificate it was indicated that the main cause for death was a Pulmonary Embolism – a suicidal drug overdose (Herrera, 1983, p.51).
As art is a mirror of artist's fate, many peculiarities of his/ her life can be noticed from the works of art. The proofs of it are Frida's paintings. The theme of Frida's childhood, which was full of sufferings, is incorporated in the painting My Birth (1932). In it, Frida depicted her birth in such a way – her mother laid naked with a dead newborn child, who did not even fully leave her womb. From the symbolic point of view, Frida wanted to show that even during childhood – the happiest period in the life of every person, she was dead because of all illnesses, which did not give her an opportunity to fully enjoy it.
As physical sufferings were the actual reality of Frida's life, they made a profound contribution on her art. Almost all pictures to some extent are dedicated to them. Nevertheless, the most striking painting, which reveals all the peculiarities of predicament is based on the image of the wounded deer. This animal is always associated with freedom. Nevertheless, the arrows in its body do not give this animal the opportunity for it. The same things occurred with Frida, who all her life was chained with the arrows of sufferings.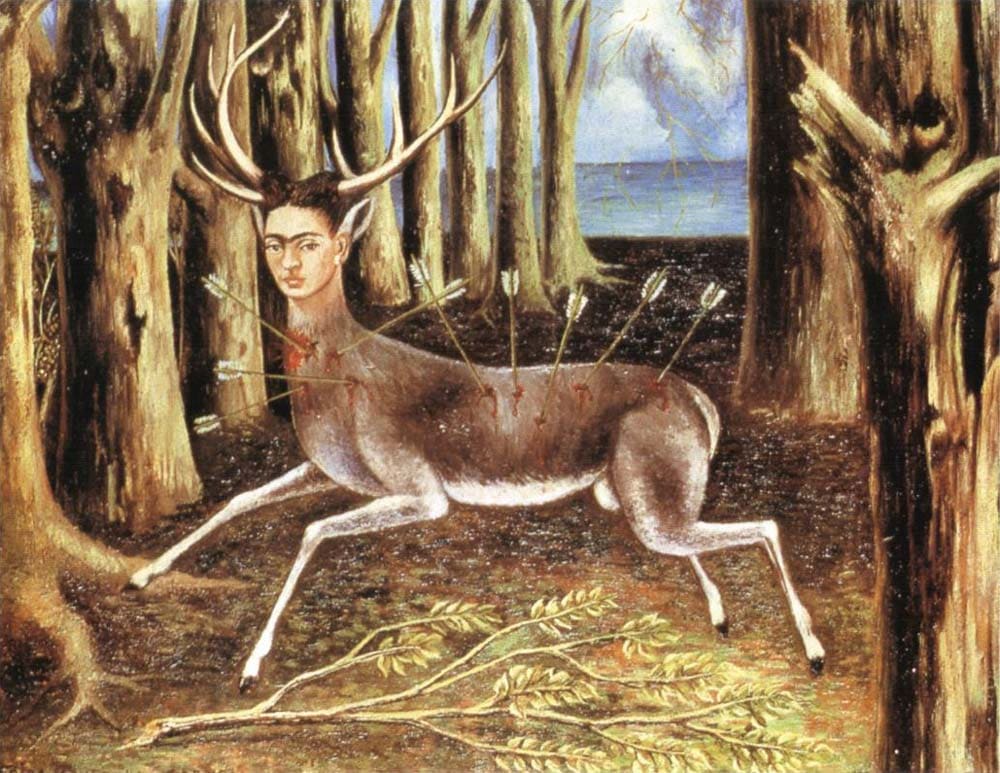 Mental sufferings during the adulthood are also presented in many Frida's pictures. One of them is The Broken Column (1944). It portrays an extraordinarily, beautiful body, covered by small nails that pierce the skin. Frida explains the meaning of it in such a way, "I paint self-portraits because I am so often alone…Because I am the subject I know best" (Herrera, 1991, p.3). In other words, this picture reveals Frida's desolated lonely soul, which despite all the hardships stand strong and does not give up.
To stand against the hard relationships with husband, Frida made them one of the main themes of her work. Painting gave her opportunity to find the roots of problem and look for the remedy. One of such pictures is The Dream (1940). In it, woman and skeleton laying on the same bed, are depicted. Through it, Frida tried to show that there was a great gulf between her and the spouse. The main reason for it was the absence of warmth and understanding in the same way as between the dead and alive person.
Many pictures are dedicated to the issue of miscarriage. One of them is The Henry Ford Hospital (1932). Frida painted herself lying hemorrhaging and naked in a hospital bed with the "little Dieguito" floating in the sky with other symbols of abortion. Herrera depicted it in such a way, "the half-born baby dropping into a puddle of blood refers to the child that Frida had just miscarried, which made her wish she too were dead" (Herrera, 1991, p.9).
Even the theme of death does not remain apart from Frida's paintings. On the morning of July 13, 1954 when Frida was found dead in her bedroom, the picture in her diary proved that it was a suicide – the attempt to break the bonds of suffering. It was her last self – portrait, presenting a nude woman, with her leg replaced by a stump, and a shower of arrows flying at her. It was accompanied by the words, "I await joyful my departure, and I hope never to come back again" (Herrera, 1983, p.67). Analyzing all Frida's paintings, dedicated to death, it becomes clear that it was the only way for her to escape from the reality. The example of it is clearly shown in the picture The suicide of Dorothy Deil (1939). It reveals that the death is not a grief but the transition to a better world.
Analyzing Frida Kahlo's biography, it becomes clear that it is a history of suffering, starting from her childhood and not ending until the last day of life. All her pictures are the proof of it. "My painting carries within it the message of pain" (Herrera, 1983, p.62). Regarding them, it is possible to imagine the peculiarities of author's external routine and inner feelings towards it. They give the opportunity to learn the biographical facts even without reading them. Nevertheless, they are not so pessimistic. Although, all of them are dedicated to sufferings, they prove viewers, with the help of antithesis, that even experiencing the hardships, it is necessary to remain strong and never give up.
You can Download this Example for Free!
Academic level
High School
In case you have considered our essay samples a great piece of writing and you would like to get the similar one, you are welcome to order an essay from EssaysMasters.com.