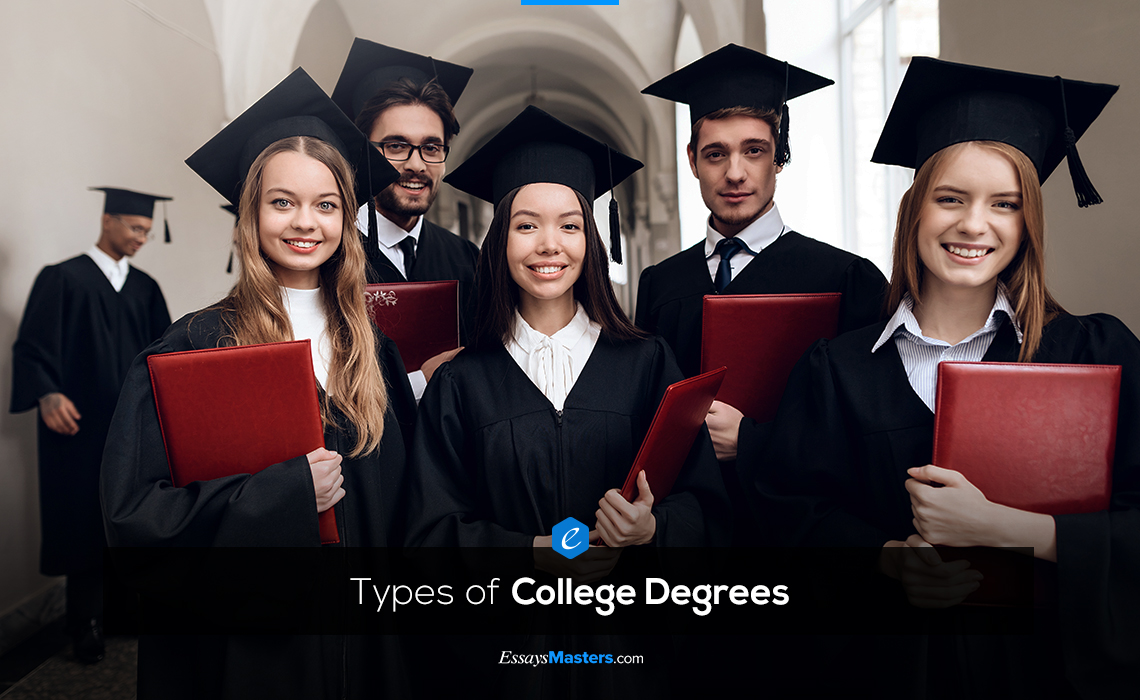 There are a few types of college degrees, each of which suites for specific purposes. The most widespread kinds of degrees are associate's, bachelor's, and master's degrees. All of them differ depending on the duration of studying and the program's complexity. For entering each of these programs, one should have a high school diploma. Let's find the difference between these types of college degrees.
Associate's Degree
To get this type of degree, you have to study at college for two years. As a rule, such programs focus on basic education that may later be used in getting a baccalaureate after studying two more years in the college or university. There are also programs that focus on specific areas of studying, like computer technology or healthcare industry.
Bachelor's Degree
The overwhelming majority of students prefer to enter baccalaureate programs. A great benefit of this program is that students can select a particular field of study that interests them, starting from fashion design and ending with animal husbandry. Choosing a baccalaureate, you will have to study during four years. Such programs provide education that is required for attaining most jobs. It should be mentioned that two years of studying are spent on general education that covers subjects that are also learned in high school.
Master's Degree
Students can get an advanced Masters degree after completing a baccalaureate in a related field. For example, a student with baccalaureate in Engineering will probably need some additional courses before entering a program for a Masters degree in Biology. Master's programs strictly concentrate on studying disciplines that are required for obtaining jobs that students are interested in after graduating from the university. Programs can differ a lot, and each of them can last from one to four years – it depends on the field of study and the number of classes per year. Often, students who are studying at master's programs are attending classes while working. There are some professions, like a doctor or lawyer, which require complicated training and further education that is called a doctorate.
If you already know what kind of work you would like to have in the future, it will be much easier to select which degree and which field of study to follow. To make a choice, you can also ask people in the related career field what interests you about their degree and program that they have graduated.
Doctoral Degrees
Doctoral degrees are widely known as Ph.D. programs. As the most advanced form of degrees, they require a high level of competence and preparation. As for the additional requirements for acceptance into the doctoral program, one should mention the standardized test scores and letters of recommendation.
There are various types of doctoral degrees. For instance, the Doctor or Medicine abbreviated M.D. is the most advanced degree in the medical field and the necessary requirement for having a medical practice. The Doctor of Philosophy abbreviated Ph.D. is a research doctorate program. The Doctor of Education or E.D. is the highest degree level in the education field. The Juris Doctor or J.D. is a degree that is pursued by those students, who want to become lawyers in the United States.
In the contemporary world of competition, it is necessary to have something that will make your candidacy seem more attractive to your potential employers. If you are going to buying a successful career in any field, you should be informed about the various options available to you for making better choices. Before choosing the program to enroll in, make sure to study its essential requirements.
How to Choose the Correct Degree?
As there are several types of college degrees, sometimes, it is very difficult to choose the optimal one. Sometimes, the choice of a degree is very challenging because there are many important aspects to consider. Therefore, one should be very attentive and persistent when learning the difference between types of college degrees. Obviously, a high school degree does not offer much in terms of professional success. Therefore, many students decide to go further and get more advanced degrees that would open many doors in front of them. As such, the primary reason why so many students pursue their degrees in dynamic and structured programs is that they want to have multiple professional options after their graduation.
The choice of the right academic degree can be life-changing for many students because most of these programs are very expensive and the student simply won`t have an opportunity to re-take the program again. Thus, it is necessary to think carefully about career goals, career preferences, as well as about the own strengths and weaknesses before making the choice. For the people, who have part-time jobs and want to extend their career opportunities, the choice of a career is not that difficult.
If you are not certain about what career choice to make, we advise you to learn more about the people, who became the leaders in your preferred area. What has made these people successful? What qualities, skills, and competencies they possess that help them succeed? Do you believe that you can succeed in this area as well? What academic degree is needed to become a valuable asset in this area? Looking through the job listings in your preferred field, what are the main requirements for the applicants?
By answering all these questions, you will be able to make a good choice and select the academic degree that will help you succeed in the chosen area.
All in all, you should realize that there are many types of college degrees. However, if you want to be a successful person, an advanced degree is not enough. You should always strive to broaden your horizons and push the limits. Remember that fortune loves the brave!