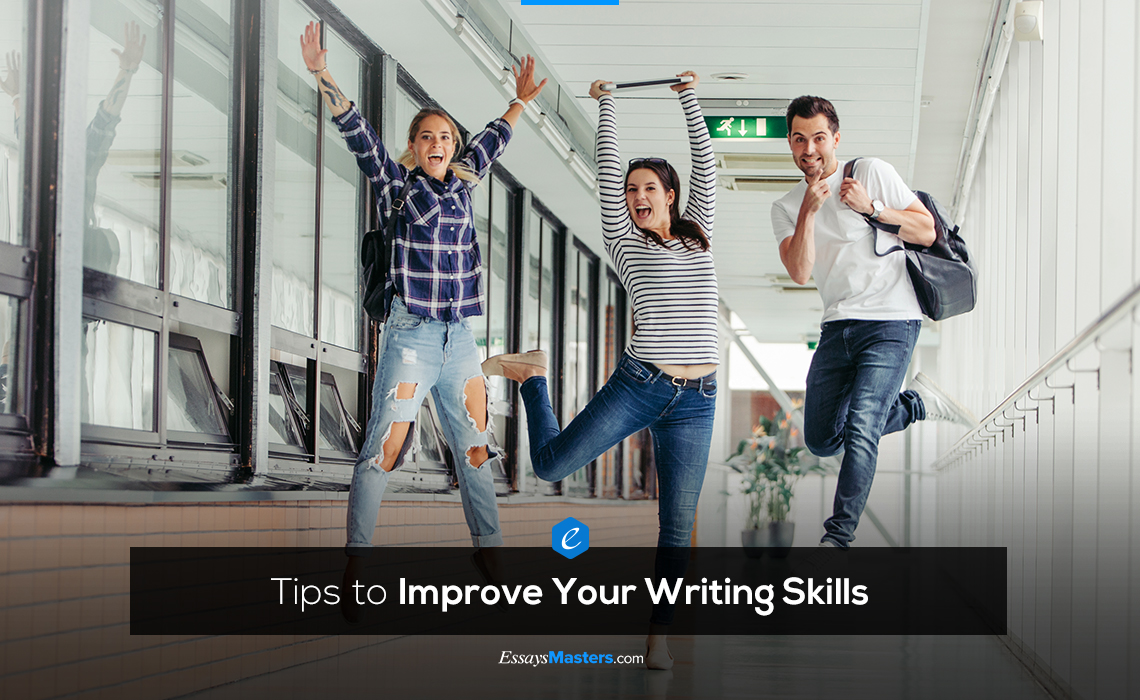 The 21st century has created an overwhelming need for the written content, which plunged many students and professionals into confusion. The necessity to write academic papers, articles, Facebook posts, business proposals, and letters among others impels people to learn the basics of comprehensive, clear, and convincing writing. Improving your writing skills is an ambitious, yet attainable goal. If it appears on your '2018 to-do list', it is high time you read the following tips to improve your writing skills.
Tips to Improve Your Writing Skills
Make Sure You Understand the Assignment
At first sight, it might sound like a trivial advice, however, failing to correctly understand the assignment is one of the most common reasons to get a bad grade for the paper. Read the task carefully. Do you need to critically evaluate a subject, make a compare and contrast essay, analyze special circumstances? The wording of the essay question provides a comprehensive description of how the paper has to be written. It also indicates where the focus of the paper has to lie as you research and write.
Plan and Schedule
Understanding an assignment is the first step of writing papers in college, but it is also critically important that you effectively use the available time. Students tend to underestimate the amount of work they need to complete a good paper, which results in burning the midnight oil in the library and, often, disappointing grades. For getting a good mark, it is vital to start planning the writing as early as it is possible.
Set yourself a deadline so that you will not be left with too much work before the hand-in date. Besides, leave time enough to proofread your draft and improve it.
Be Critical
You can make your paper outstanding with critical thinking. It demonstrates that you are not simply repeating the arguments learned during your studies, but really engaging with theories in an academic manner. The best way to practice this is to carefully read literature reviews in the published articles. You will notice that authors do not just summarize previous studies but provide a critique for their own research.
Ensure Your Paper Has a Logical Structure and Flow
The way you present your argument is just as important as the argument itself, so make sure your paper follows a logical structure. This will help you ensure that the entire paper is coherent. Every section, paragraph and sentence must add value to the argument presented.
Besides, make sure that every part of the paper fit together as a cohesive whole, and that the transition between arguments is fluid.
Use the pieces of advice mentioned above to improve your writing skills and write academic papers of the highest quality.
Adhere to the Appropriate Writing Style
Apart from knowing what to write, it is also important to understand how to write it. That is why you should be familiar with the notion of style. For instance, if want to improve your business writing skills, then you have to focus on the activities related to this style. Alternatively, if you are in the middle of preparation to IELTS exam, the resources you use should be related to academic writing. It is impossible to learn all styles at once. Therefore, choose your style and move to the next step.
Find Good Examples and Imitate Them
This should not be difficult if you have access to the Internet. Simply find texts written in the style you need and analyze them. For example, if you want to hone your business writing skills, look for a text written for business purposes, and then read it, copy it, and re-write it from memory. After that, use the original to correct your mistakes.
Become an Avid Reader
There can never be too much reading. This is the easiest way to observe the conventions of your style and train your proofreading skills. The more you read, the better you become at spotting your own mistakes. If your writing and reading skills are yet to be developed, start with graded reading. In fact, reading the texts that are too complicated for you can be discouraging, so do not spread yourself too thin. It goes without saying that you have to read the types of texts you want to learn to produce. For example, reading text stories will be useful if you want to improve informal writing skills. Writing effective social media publication takes much preparation and time, as well.
Not a fan of reading? No problem! Listening to audiobooks can also be helpful. Of course, if you read and listen simultaneously, the effect will be stronger. If reading and listening does not work for you, just listen to the audiobooks written in the genre close to the sphere of your interest. It does not matter what you read, just make sure you do it as frequently as possible.
Put Your Skills to Practice
Regardless of the type of skills you are sharpening, you have to put them to practice regularly. Moreover, it is recommended that you receive feedback form a professional. By following various tips to improve your writing skills, you broaden your knowledge. Nevertheless, an hour of actual writing will be more effective than a day of accumulating knowledge. For example, after reading and copying texts for some time, try to create a similar text of your own and ask an expert to read it. Many students who want to improve their English use an app called "Hello Talk" to find language-learning partners. This is a great option for those who want to finally start practicing their skills.
Use Apps
"Hello Talk" is just one example of useful apps but there are dozens of them out there. For instance, Grammarly. It can be downloaded to any device and it helps spot mistakes made while writing messages, e-mails, etc. Not only does it help people avoid embarrassment, but it also shows their systematic mistakes so they can finally be avoided. Another app many students find useful is "Linguee". One major benefit of this app is that it uses real-life examples, which can be particularly useful for ESL learners. Take your time to find the app that work for you, download it to your smartphone, and practice your writing skills on the go. Remember that tips to improve your writing skills are numerous, but you have to use them regularly to achieve your goals.