We have gathered the most interesting and fascinating topics for PowerPoint presentations in one single list. There is a long list of tasks when a student will be in need of a presentation, like a conference, a discussion, a seminar, or a workshop. These topics may be used by others, including professionals or teachers. Of course, this is not a final list of topics, therefore if you have a great topic on your mind, please feel free to put it on the list.
Besides, we have included some tips that will help anyone craft a perfect presentation.
A List of Interesting Presentation Topics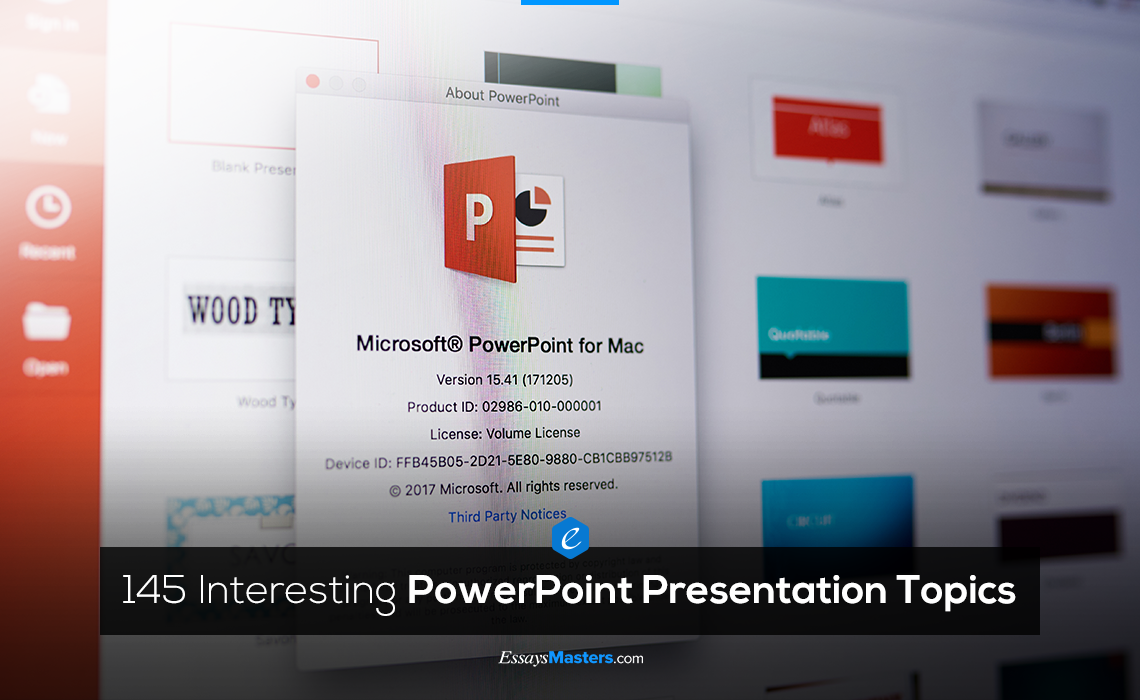 >

Most Fascinating Topics:
Academic dishonesty and its consequences
Are soccer players overpaid?
Balance between personal and professional life
Ban on using cell phones in schools
Becoming friends with mother-in-law
Bermuda Triangle
British games and their impact on the Indian culture
Can an arranged marriage ruin the life?
Can smoking lead to drug abuse?
Crime prevention: myth or reality?
Degradation of the Internet
Did we come from another planet?
Do mermaids exist?
Do Unidentified Flying Objects exist?
Do vampires exist?
Does history move in a spiral?
Does Zone-51 exist?
Existence of God and living proofs
Fighting corruption in a developed country
Ghosts: supernatural or science fiction?
Growing earth population and a global food shortage
How to balance between mother and wife
How to be satisfied with life?
Indian Hospitality
Is China a threat to the US economy?
Is death penalty humane?
Is gun control needed or not?
Is murder justified if it was committed to defending oneself?
Is there a need to reform the Indian healthcare sector?
Is there a place for ethics in business?
It is better to die standing than live kneeling
Legalization of all drugs
Media censorship
Pros and cons of living in a gay family
Pros and cons of a death penalty
Protecting the leftovers of the Amazon rainforest
Recycling in road construction
Reincarnation in various cultures
Should lethal weapons be banned in the US?
Should physical education be an obligatory class?
Should there be academic freedom?
The decrease in the orca population
The impact of social networks on the development of children
The power of artificial intelligence
The truth behind global warming and its consequences
The world without armies
Top 10 alternate fuels
Top 10 miracles of the 21st century
Vegans and their ideology
What animal is as intelligent as a human being?
What is located on the dark side of the Moon?
When a politician should retire?
When it is proper to start Sex Education?
From what does our fear grow?
Which are more important: one's rights or duties?
Which sex is better at sports?
Who is more intelligent: a girl or a boy?
Who constructed the Egyptian Pyramids?
Who will be the next superpower?
Why is serving in military important?
Creative presentation topics
Being a student means completing numerous tasks and assignments. PowerPoint presentation is not an exception. A well-chosen topic will help you attract the attention of the audience at once. Here is a list you can use in choosing a topic for yourself. Besides, you can use it as a guide. This list is also divided into categories to make it easier to find the most suitable topic.
Technology:
China as a software giant
Cryptocurrency
Digital signatures
Energy efficiency in cellphones
Online learning
Recycling old electronics
Terrorism and the Internet
The extinction of printed media
The impact of e-waste on human's health
Wi-Fi and its drawbacks
Environment:
Fossil fuels versus green energy
Global warming
Green energy
Harvesting rainwater
Ozone holes
Rainforest extinction
Recycle, Reuse, and Reduce
Recycling and its importance
Soil pollution
Business:
Corporate communication
Direct taxation
Headhunting
Setting goals
Simplifying daily schedule
Time management techniques
What is business ethics?
Work-life balance
Science:
Are UFO's real?
Calculating earth's life
Google at work
Is the Bermuda triangle a mystery?
Risks in cosmetic surgery
Yoga steps to control your life
Sports:
Benefits of sports
Dairy benefits in a sports active person
Drugs and sports
Evaluating nutritional supplements
Managing weight
Meal planning for an athlete
Nutrition coaching
Preventing head injury
Raising your metabolism
Agriculture:
Computer technologies in agriculture
Cultivating new species
Drainage in agriculture
Food engineering
Food processing and preservation
Impact of climate change on agriculture in sub-Sahara
Sustainable agriculture
Lifestyle:
Benefits of donating blood
Consequences of online dating
Gay marriages
GMO and its impact on health
How are social networks useful?
Legalization of drugs in all US states
Sex, drugs, and rock'n'roll effects
Technology destroys relationships
Architecture:
Ancient architecture
Arab architecture
Architectural theory
Digital architecture
Ecological impact of construction
Environmental friendly buildings
Criminal Justice:
Abuse of children
Cybercrimes
Cybersecurity
Gangs in the US
Hate crimes
Juvenile justice system
Organized crime
Theft of identity
Types of crime prevention
Medical Topics:
Presentation on Embryology
Presentation on Anatomy
Pharmacology Presentation
Circulatory system
Microbes and the human body
Human brain and its functions
Deadly Pathogens
Nervous system
Computer technologies in the healthcare industry
Historical accounts of plague and its treatment
Healthcare Presentation Topics
This section is meant to assist anyone related to the healthcare industry. It contains a list of presentation topics for medical students. The field has a variety of branches and therefore it is next to impossible to include all of them. Nevertheless, here are some topics that may be used in the academic process.
Slide Sharing Websites
It goes without saying that another source to look for presentation ideas exists. You may use a reliable slide sharing site. One of the best sites is SlideShare.net. They know what you need and will surely give you some great ideas or samples.
PowerPoint Presentation Tips
Here are some vital tips to bear in mind when preparing a presentation. It is recommended to make notes in the process of reading, thus you will remember the information faster.
Preparing a persuasive presentation
Probably at least one you had to prepare a boring essay. Preparing an uninteresting presentation is similar to that. The reader is forced to go through it and cannot stay focused. The information is poorly arranged, and the writer covers only general issues. Such an essay, as well as presentation, is doomed for failure. But if you make an entertaining and easy to grasp one, the reader will definitely enjoy it. It means he will remember it and even cite some data from it in the future.
The structure of the presentation does not differ from that of an essay. The core elements are the introduction, the body, and the conclusion.
Introduction
Always start your presentation with something catchy. You need to provide just a short outline of the information that you plan to reveal in the presentation. It should give your reader an understanding of what you plan to discuss in the body. If you think that they will not grasp it at once, then you need to spend more time and change the introduction.
Body
The body should be as attention-grabbing as the introduction. The audience should get interested in the data. If they wait for the next slide to come, then you have prepared a fabulous presentation. Do not forget to support your words with relevant quotes. There is also place for humor in your presentation but do not overuse it.
Besides, you need to invite your audience to direct participation in the presentation. Even the most curious brain needs a break. Make these breaks for your audience. Ask some questions regarding a specific matter or slide. Ask their opinion. You may use both of these options as breaks for the audience and as a way to gather most honest feedback. People are not inclined to lie in the process, while they may be ready to give false feedback after the presentation is over.
All the data should be presented in an easy to remember way. Bullet points are the best way to present your information in brief. Do not use long sentences. Be as laconic as possible. All extra information should be presented in the speaker's notes.
Conclusion
In the conclusion, you need to sum up all the key points that were presented in the main body. You need to stress the importance of topic and reinforce your thesis.
Do not forget that the audience will still have a number of questions unanswered. Leave some time for a question and answer part. Do not forget to include a thank you section, where you show your gratitude to the audience for being present and attentive.
If you are busy and don't have free time to do your PowerPoint, you can buy powerpoint presentation from expert writers.