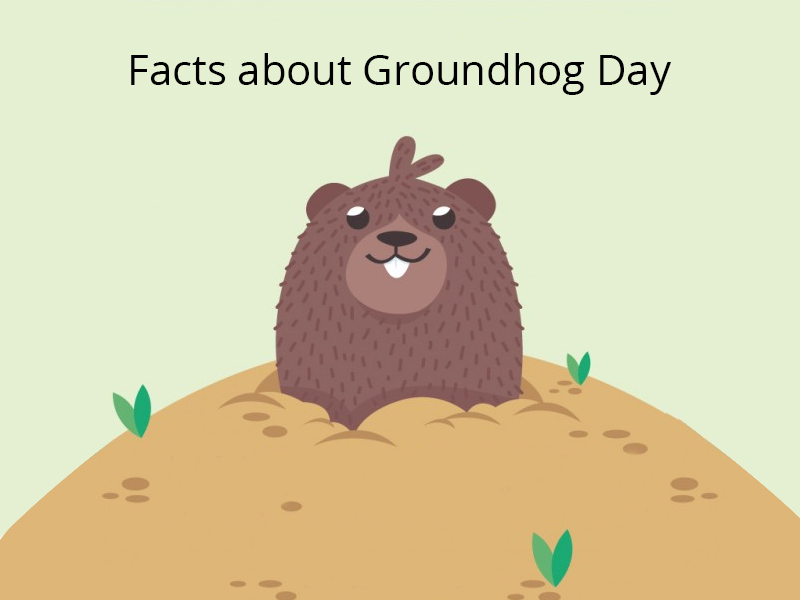 On February 2, the attention of all Americans and Canadians, as well as the vast majority of the world, will be turned to the furry groundhog with the hope of forecasting the coming of spring. This natural predictor is so famous that there are huge celebrations held on this day, but what do you know about the appearance and the history of this day?
1.Groundhogs are not very trustworthy.
We all have heard that if on February 2 the groundhog comes out of his burrow and it's cloudy outside, that's the clear prediction of spring coming. However, if the animal sees his shadow and gets back to his hole, it means that the next six weeks are still going to be under the rule of winter. Despite all the fuss around groundhog's predictions, his forecasts came true only in half of the cases, which makes groundhogs not so competent prognosticators.
2. Groundhog's Day has a European origin.
Indeed, this day originated from Candlemas Day, a European Christian festival which commemorates the purification of the Virgin Mary and Christ's presentation in the Temple. Apart from that, this holiday was also the time to bid farewell to winter and welcome spring, which is why people from different countries chose different animals to serve as weather predictors. After moving to America continent, people took this good old tradition with them to adopt it on the new land.
3. Groundhogs live for more than 100 years.
Shocked? Well, they say that Punxsutawney Phil, the main weatherman, or weather animal in all the States, is 129 years old. However, not everybody knows that Punxsutawney Phil is the name of the whole succession of groundhogs which started with that first groundhog of the same name to be born in 1887. Now, his furry offspring share his name and continue his important job.
4. Punxsutawney Phil as a film star.
Not only is he the cause of the national holiday and huge celebrations, but also the centerpiece of the 1993 movie Groundhog Day starring Bill Murray and Andie MacDowell. Thanks to the movie, Phil received the popularity all over the world, which now brings lots of tourists to Punxsutawney, Pennsylvania to see their icon, the famous groundhog.
Huge popularity and constant attention don't interfere with the typical lifestyle of Phil and his family. They all live happily at the Punxsutawney Memorial Library and wait for that one day of the year when the attention of the whole world will be turned to them.